(participating with a private display and blog post)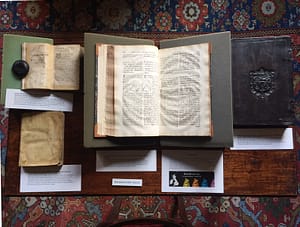 Display dates:
Open for the 'Fourth of June' display in Eton College Library, 10.00am – 1.00pm on 16th June 2018. Please note this display will only be accessible to members of the Eton community.
Blog post:
For further information on the books on display, as well as on mathematical education at Eton, see their deputy librarian Lucy Gwynn's blog post 'Reading Euclid at Eton'.
items on display
click on the thumbnails to view the captions
about
Eton College Library is a rare book and manuscript library of international importance. Established soon after the foundation of Eton College, it houses more than 150,000 items, ranging from the 9th to 21st centuries. These include printed and manuscript volumes, literary manuscripts, autograph letters, and prints and drawings.
The library's earliest collections were predominantly theological. Changes in taste and thought are reflected in subsequent additions, which include large numbers of classical books and manuscripts, early scientific works, historical and literary texts in modern languages, and materials valued primarily for their aesthetic or historical interest.
In the 1960s the college began also collecting rare books and manuscripts from the 19th century onwards. The modern collection includes important holdings of English literature and is also rich in travel writing, theatrical history and fine printing. College Library also has responsibility for the Macnaghten Library of First World War materials, presented to Eton as a memorial in 1938.
Website: https://www.etoncollege.com/CollegeLibrary.aspx
Blog: https://etoncollegecollections.wordpress.com/category/college-library/
Twitter: https://twitter.com/EtonCollLibrary