(participating with an online article)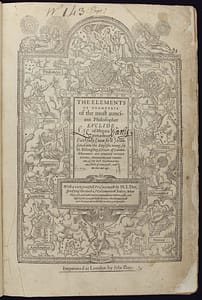 Canterbury Cathedral Archives and Library is participating in the exhibition virtually with an article on their copy of the 1570 English translation of the Elements (reference ELHAM 143).
To read 'QED: John Dee and Geometry' by Dr David Shaw of Canterbury Cathedral Archives and Library, published on 1 June 2018 in their monthly 'Picture This' feature, visit https://www.canterbury-cathedral.org/heritage/archives/picture-this/qed-john-dee-and-geometry/.
about
The Archives and Library of Canterbury Cathedral holds an impressive collection of manuscripts, historic records, photographs, maps and printed books dating back to the late 8th century. These make up an extraordinarily rich resource. The Library contains about 30,000 books and pamphlets printed before 1900, and an expanding collection of some 20,000 books and serials published in the 20th and 21st centuries. The Collections are particularly rich in books on church history, older theology, national and local history, travel, natural science, medicine and the anti-slavery movement.
Website: https://www.canterbury-cathedral.org/heritage/archives-library/
Twitter: @No1Cathedral